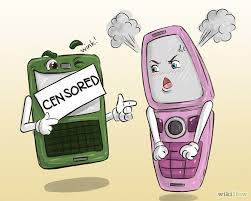 We recently delivered a session to a local school around the topic of sexting and self-esteem. After finishing the session we realised that many more people would benefit from the information we shared the group of young people.
So, here's what you need to know about "sexting".
What is "sexting"?
Sexting means sending or receiving naked, sexual, or underwear pictures. These could be from a boyfriend, girlfriend, friend, or someone you met online.
You might also have sent a sexual photo, video, or text to someone else you know.
Sexting can happen easily, even if you didn't mean for the conversation to turn out like that, and it's important to remember that you should only send things you feel comfortable with.
Sexting – true or false?
Sexting has consequences – true
You might think that sexting is harmless fun but it does have consequences, both emotionally and legally.
Sexting is illegal – true
By sending an explicit image you are producing and distributing child abuse images. This means that you risk being prosecuted even if you gave your permission for the image to be taken and shared.
You can find more information about the legal consequences of sexting here: Sexting_The-Legal-Consequences.docx.
Sexting leaves you out of control – true
It's very easy to take and send a picture or video but once you've sent it you have no control over how it's used. Those images could be stored, shared, saved, and copied by others, especially if they're sent on social media.
You never know where the images will end up. Even if you delete them they're never completely removed and they could be found in the future – for example, when you're applying for a job or university.
Sexting leaves you vulnerable – true
You may think that sexting is harmless but chances are there are people that you wouldn't want to see the pictures. This leaves you open to bullying, blackmail, unwanted attention, emotional distress, and low self-esteem.
Who can help?
If you're concerned about sexting, particularly if someone is asking you to share things you don't feel comfortable with, there are plenty of organisations that can help.
You can also call our Freephone helpline on 0800 515 819 or come to one of our drop-in sessions.